Checks 1/4″, XLR, RCA, 1/8″, TT and 3-Pin MIDI Cables
Detects for Grounded Shields
Intermittent Detect and Display Holds Reading Until Reset
Cable Wiring Display Shows Type of Problem and for which Wire or Pin
Checks Cables Installed in Walls!
Test Tone Generator (1kHz (440Hz) tone at +4dBu, -10dBV or mic level)
Phantom Power Detector Shows When DC Voltage Is Present on Pin 2 or 3
Made in USA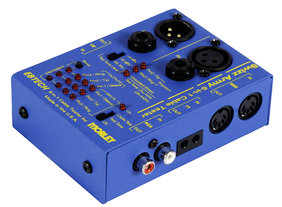 Product Description
The 6-in1 Cable Tester is six handy tools in one. It is not only a cable tester, but a handy LED display for wiring and intermittent detection, an installed cable tester, test tone generator, phantom power detector and ground shield detector.
Encased in cold roll steel, the 6-in1 Cable Tester is made to be road worthy and comes with a no hassle two-year warranty. Each function is clearly marked on the unit for ease of use and runs off 2 AA batteries (not included).
Anyone that deals with cables needs this handy device. Don't be caught without one!
How to Use the 6-in-1 Cable Tester
Details
1) CABLE TESTER:
Checks 6 types on connectors: XLR, 1/4″ (TS or TRS), RCA, 1/8″ (TS or TRS), TT and 3-Pin MIDI cables.
2) INTERMITTENT DETECT AND DISPLAY:
Displays intermittens information until you reset it! Clearly shows where the problem is and what type of defect it is.
3) WIRING DISPLAY:
Clearly shows how cable is wired and shows continuity, opens and shorts for each pin. Perfect for determining custom/adapter wiring – such as XLR to 1/4″. 1/8″ to stereo dual RCA, etc… Will also show if XLR Pin 1 (ground) is connected to XLR housing (grounded shield).
4) INSTALLED CABLE TESTING:
Great for diagnosing cables that are inside building walls.
5) TEST TONE GENERATOR:
Generates a 1kHz or 440Hz tone at +4dBu, -10dBV and mic levels.
6) PHANTOM POWER DETECT
Shows when DC voltage of 5V or more is present in Pin 2 (tip) and/or Pin 3 (ring).
Download 6-in1 Cable Tester Owners Manual
Download 6-in1 Cable Tester Applications