Our friend and longtime Morley fan Phil McKnight of Know Your Gear unboxes the 50th Anniversary Chrome Bundle: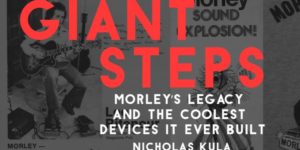 With our 50th Anniversary just on the horizon our friends at Distortion LTD wrote this great article on our beginnings in the effects pedal business. Click Here to Read the …
Back in the day, in the mid 70's that is, we had a very cool pedal on the product roster with three main purposes: Volume, Wah and Rotating effects. Please meet – or rediscover – the RWV!