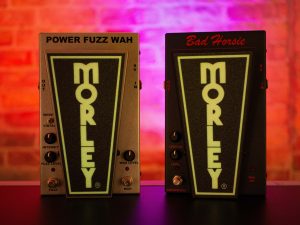 INTRODUCING THE CLASSIC SERIES
January 2020—Morley®, makers of Wah, Volume and Switching devices announced the release of two new Classic Size pedals; the Morley® Bad Horsie Wah and the Morley® Power Fuzz Wah. Each measure 9.13" L x 5.88" W x 2.75" H, which historically has been the size of Morley® Wah & Volume pedals over the past 30 years.
The Morley® Bad Horsie represents our most popular Wah of all time. It is optical, switchless, and has two Wah modes – Bad Horsie and Contour Mode. The Wah level control functions in both Wah modes, in Contour mode, you can adjust the Wah frequency (Contour).
The Morley® Power Fuzz Wah is a modern-day reissue of the acclaimed 70's version. This switched Wah is combined with a monstrous fuzz circuit that offers both vintage and modern tones. The Fuzz comes equipped with a Level, Intensity knobs and a toggle switch to select between Vintage or Modern Fuzz types. The Wah is switched and has a Level control. LED's show what's on or off.
Both pedals have our custom buffer circuit. silent switching, our patented Pedal Glow technology, cold-rolled steel housing and one-year factory warranty. Pedal designer Scott Flesher states, "With our new 20/20 pedal line offered in pedalboard friendly housings, we knew there are a lot of players out there who do prefer the classic Morley® sized pedals. They're fun to play and you feel like a Rockstar stepping on one. These two pedals have been best sellers for many, many years and will continue to be. Check these out at Hal Leonard's Booth #8910 in hall B at The NAMM Show."
PR Contact
Pete Fenech
[email protected]