Morley® started off in the late 60's by two brothers Marv and Ray Lubow. The company was first called Tel-Ray Electronics and was located in southern California. As Ray began tinkering around with a smaller alternative to a Leslie speaker, the company name Morley® was born. The name was actually a play on the name Leslie / Morley® (Less / More). The company produced many inventive effects through 1989 when Morley® was acquired by Sound Enhancement Products.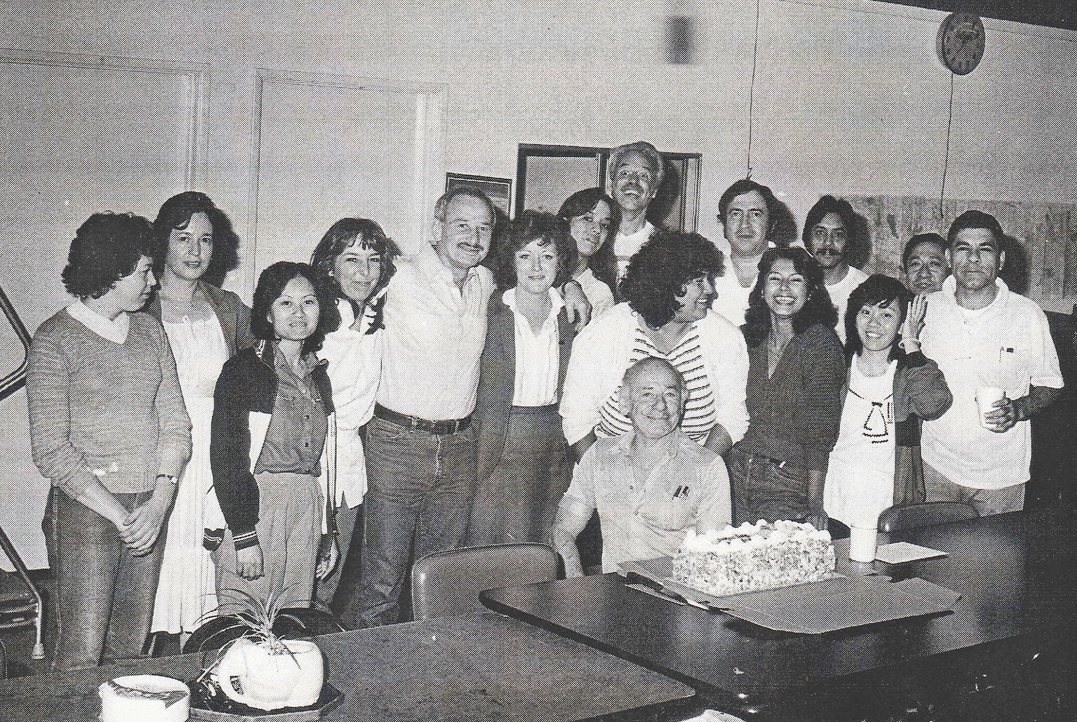 Picture of the Tel-Ray Morley staff circa early 70's. Marv Lubow is 5th from left, Ray Lubow is sitting. Marv's wife Barbara is on his left and their daughter Samantha is on his right.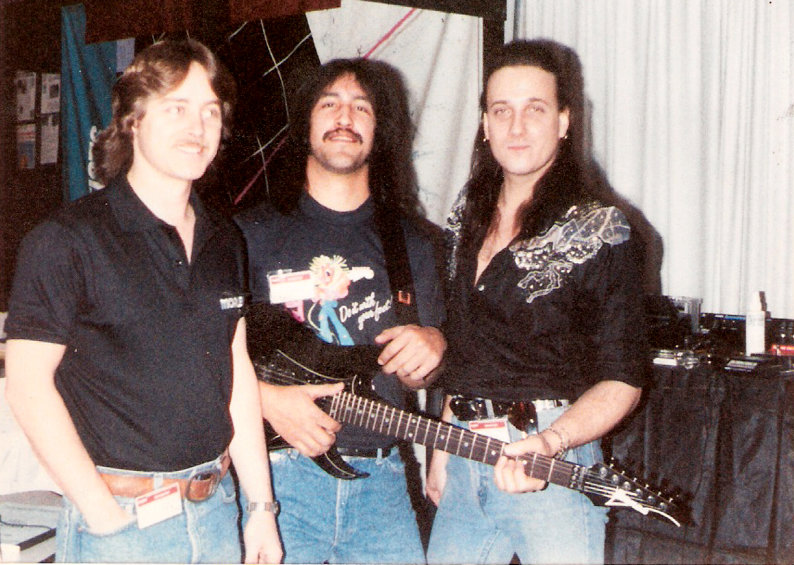 The origins of Sound Enhancement Products started at the Hammond Organ Company, where spring reverb was developed into a popular guitar amplifier function. The names changed from Hammond, Accutronics, Gibbs, OC Electronics, Sound Enhancements Inc., Sound Enhancement Products and ultimately Sound Enhancement LLC. In 1989, Morley® trade name was acquired from Tel-Ray Electronics in Hollywood, CA. This is where engineer Scott Flesher and Sales / Marketing Manager Bill Wenzloff enter into Morley's history through current day.
Scott Flesher (left), Bill Wenzloff (center) with the late great Bassist Randy Coven.
In January 1990, Accutronics, Inc. moved its Reverb and Morley® divisions into a separate facility in Cary, IL. Randy Wright was made General Manager and eventually became company owner in from 2005 to 2014. In May 1991, the Reverb and Morley® divisions of Accutronics® were incorporated into the entity, Sound Enhancements, Inc. In 1999, Sound Enhancements Inc. became a member of the Stainless Industrial Company. In 2001, Sound Enhancements, Inc. acquired Ebtech®. In August 2005, the company name was changed to Sound Enhancement Products and was an independently owned company. In June of 2009, the Accutronics® reverb brand was sold, leaving Ebtech® and Morley® as the sole manufactured brands.

Morley® Manufacturing Facility circa 2005. General Manager / Owner Randy Wright.
In January 2014, Sound Enhancement Products was acquired by Geo T. Schmidt Corp (Niles IL). In August 2016, Sound Enhancement Products was acquired by M-Wave International (Glendale Heights, IL) and became Sound Enhancement LLC. The manufacturing plant relocated to Glendale Heights IL where both Morley® and Ebtech® brand products are being produced today.

Morley® manufacturing facility 2017. Morley® core staff January 2017; (L to R) Bill Wenzloff, Chiengkham Luangphixay, Somchay Sirioudom, Jim Columbus, Quynh Nguyen, Cal Shuett, Nancy Wenzloff, Scott Flesher.
Company Landmarks:
1970 – Worlds First Compact Rotating Effect
1972 – First 747ms Delay
1974 – First Electro-Optical Wahs and volumes
1979 – Successful line of analog effect stomp boxes
1984 – Worlds first compact wah and volume pedals
1989 – Marv & Ray sell Morley® to Accutronics®.
1992 – Entire Morley line reengineered and launched
1993 – World's best selling ABY switcher/combiner released
1994 – World's first Switchless Wah
1996 – One of the first Artist Series Wahs, the Steve Vai Bad Horsie released
2001 – Ebtech® brand acquired
2002 – Tremonti Wah released
2003 – Hum Exterminator designed and released
2009 – George Lynch Dragon 2 Wah released
2010 – Morley® releases Mini Pedal line
2014 – M2 Series pedals released
2017 – DJ Ashba Skeleton Wah Released