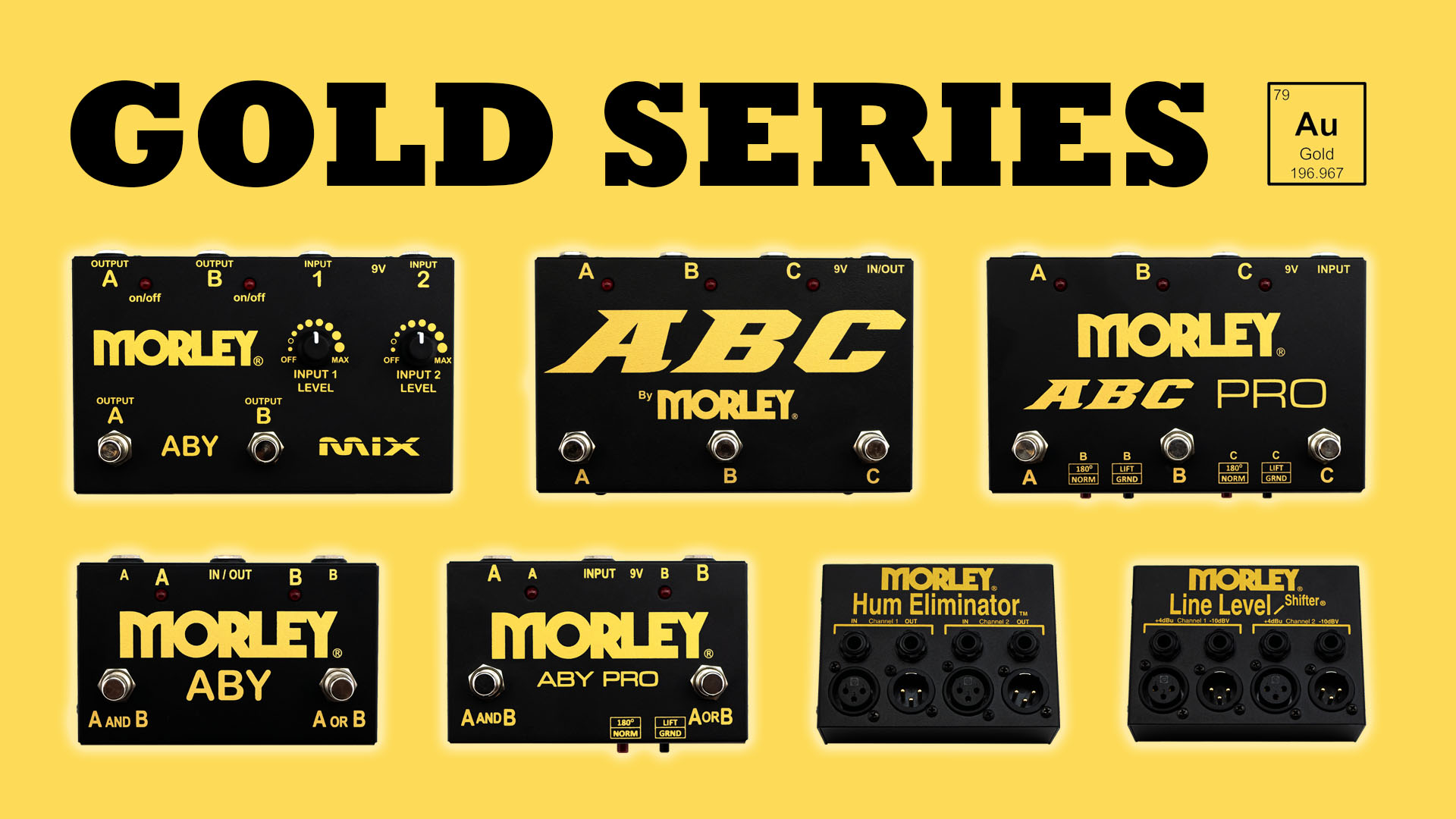 INTRODUCING THE GOLD SERIES ABY-G, ABY-MIX-G & ABC-G SWITCHERS
May 2021 – Morley®, makers of pedals, switchers and audio solutions, is proud to announce the release of the Gold Series Switchers. This latest addition continues the timeless legacy of the Morley® ABY, ABC and ABY-MIX switching devices and completes the Gold Series.
These new versions retain the same layout and operation, but with upgraded, quieter circuitry and a new classy look. The Morley® ABY-G lets you route two inputs to one output or one input to two outputs and can function without a power source (only the LED's require power). The Morley® ABC-G adds an additional channel allowing you to route three inputs to one output or one input to three outputs. The Morley® ABY-MIX-G is essentially a two-channel mixer in a robust pedal enclosure. You can route two inputs to two outputs and control the level of each input, which is ideal for routing two guitars into one amp. It is also equipped with our premium buffer circuit, which protects your tone from any mischief in your signal chain.
The Morley® Gold Series encompasses our switching and audio solutions devices and all have a uniform design with Gold lettering on top of a lush Black powder coat. The series includes the Morley® ABY Pro and ABC Pro Selectors, and the Morley® Hum Eliminator, and Line Level Shifter. These newest versions complete the series
Bill Wenzloff states: "The Morley® ABY-G Switcher remains one of our best-selling products since it was introduced in 1992. It has become the industry standard in switching. The Morley® ABC-G and ABY-MIX-G devices have also gained much popularity since their introduction in the late 90's and these new Gold Series Switchers continue their legacy."
The ABY-G measures 5.25" x 3.25" x 2" (L x W x H) with a street price of $99. The ABC-G measures 6.63" x 4.38" x 2" (L x W x H) with a street price of $129 farmbrazil.com.br. The ABY-MIX-G measures 6.63" x 4.38" x 2" (L x W x H) with a street price of $119. All three are constructed with heavy metal cold-rolled steel, have LED indication, and easy access "Quick Clip" battery doors. Available via Authorized Morley® dealers worldwide.
PR Contact
Pete Fenech
[email protected]